What Affects Attachment?
The way you respond to a child's needs.
Do you go to her when she cries? Do you listen when she is speaking? Are her needs met? Being responded to helps a child feel that her needs are important & she is worth listening to.
How consistent you are for the child.
Do you respond sometimes but not all the time? Is he able to depend on you to be part of his life regularly? Children need the stability of consistent care in order to form attachments.
The attitude of your response.
Do you meet her needs with a smile & a gentle touch or with rough handling & harsh words? When disciplined, is she treated firmly but with kindness & compassion? A child who is dealt with kindly & with gentleness will learn to be kind & gentle with others.
Providing safe supervision & guidance.
Are you or another adult nearby when needed? Do you provide a safe place from which he can explore? Children need an "anchor," a person who helps & supports while allowing them to learn & explore on their own.
All these things are important at home & at childcare, from parents & from caregivers.


Attachment & Development
Attachment Affects BRAIN Development
When babies are born, their brains are still developing. A baby's brain comes ready to adjust to whatever type of world she finds, whether that's a loving, secure place or a frightening or chaotic one. Her brain develops based on what is usual in her world, what kind of experiences she has over & over again. Her brain forms a pattern of relating to the world around her built on these experiences.
Attachments are a baby's pattern for relationships! When her new brain develops in a loving & gentle environment, it makes a pattern to be loving & gentle & that pattern stays with her forever. She learns to relate to other people by the way that she's treated when she's young & her brain is still developing.
Attachment Affects EMOTIONAL Development
Without attachment, a child could have difficulty understanding what other people are feeling & may not be able to put himself into someone else's place. He might find it difficult sometimes to even know his own feelings & may have a very hard time acting appropriately on those feelings.
Attachment Affects SOCIAL Development
Naturally, if a child has a poorly developed pattern for the way people treat each other, she could have problems forming or maintaining friendships. However, a child with a secure attachment to serve as her pattern for relationships is better prepared to relate to other children.


Attachment & Learning
Are you concerned about whether or not your child will be ready for school? Do you want to do everything you can to make sure your child is ready to learn? If you answered "Yes!" then attachment is for YOU! There is no better way to prepare your child for school than to make sure she is securely attached.
Securely attached children are better prepared for school because:
| | |
| --- | --- |
| | They're more sure of themselves. |
| | They're more comfortable around other people. |
| | They're more interested in the world. |
Children who have a low opinion of themselves, feel nervous or uneasy around others & are uninterested in the things around them have a difficult time getting along in a classroom, listening, or even caring about what is being taught. No flashcard or spelling drill or special class can replace a secure attachment to a caring adult. Attachment is a lifelong learning gift you give your child & best of all, it's free!
When children feel good about themselves, feel good about other people & are interested in the world around them, they're more ready to learn. Simple as that.


What Are the Benefits of Attachment?
Adults who have secure attachments to the children in their lives:
Want to provide loving care until the babies are old enough to care for themselves.
Are better prepared to care deeply & lovingly for their children.
Will have more fulfilling relationships with their children throughout their lives.
Children who are securely attached are more likely to:
Do well in school & in future achievements.
Spend time with peers & have more positive relationships with them.
Develop higher self-esteem.
Be cooperative, positive & enthusiastic.
Be comfortable with hugs & kisses.
Adults who were securely attached as children:
Have a more balanced view of their parents.
Are better able to have committed relationships.
Have more stable & long-term romantic relationships with other adults.


Bonding & Attachment -- When it Goes Right
Lawrence B. Smith, L.C.S.W. - C., L.I.C.S.W.

Bonding & attachment are both cornerstones of human development, essential to a child's stable functioning as she grows.

Bonding & attachment are terms that are often used interchangeably. However, the stages of infancy & toddlerhood are more accurately portrayed by distinguishing bonding from attachment.

Bonding is the basic link of trust between infant & caretaker, usually the mother. It develops from repeated completions, particularly during the first 6 months, of the following cycle:
infant need > crying > rage reaction >
parental action to meet need > satisfaction > relaxation
Successful bonding results in an infant acquiring a basic trust in others as responsive, in the world as a benign place & in self as able to communicate needs.

As an infant approaches toddlerhood, she begins to encounter
parental limits
for the first time. This initiates a second bonding cycle:
child behavior > adult limit > frustration & shame >
adult restates intention to keep child safe
As a result of this cycle, a child develops trust in adult authority & limits. However, for this 2nd cycle to be successful, the shame that is a natural part of the young toddler's reaction to limits needs addressing.
Usually a parent-initiated, positive interaction shortly after the
limit-setting
is all that is required to protect both bonding & attachment from the disruptive effects of shame.
These 2 bonding cycles form the foundation out of which attachment grows. While bonding is about trust, attachment is about
affection
.

Attachment can be defined as a person-specific relationship that's dominated by affectionate interchanges. It isn't a prisoner of immediate time & space, but extends beyond that.
Attachment initially grows out of many instances of a young infant experiencing her parent as reflecting her emotional state. As a child grows, other mutually satisfying interactions add to the parent-child attachment.
The quality of an infant's initial attachment is enormously important for it influences all subsequent development.
Attachment has been identified as playing a vital role in all of the following:
maintaining the bonds of trust
attaining full intellectual potential
acquiring a conscience
developing relationships with others
identity & self-esteem
learning to regulate feelings
language development
brain structures
organization of the nervous system

Attachment at Different Ages:

The indications that bonding & attachment are progressing in a healthy manner vary as an infant grows. In the first month of life, an infant experiences herself as one with the surrounding environment.
The basic developmental task is for an infant to achieve a physiological balance & rhythm. This balance evolves out of numerous completions of the infant bonding cycle & prepares the way for bonding & attachment.
From months 2 to 6, an infant's experience shifts from feeling merged with her environment to feeling "one" with the parent. There now appear a number of signs of an infant's developing attachment to his primary caretaker:
smiling
making eye contact which expands from a few seconds to a few minutes during this period
a preoccupation w/the parent's face
making happy noises
By the 6th month, an attaching infant is showing the full range of emotions, is responsive to parental wooing & initiates wooing exchanges.

By 6 or 7 months, an infant has usually begun to experience stranger anxiety. Paradoxically, stranger anxiety testifies to the strength of an infant's attachment to her parent.
It's this attachment that defines everyone else as strangers. Without an attachment, there are no strangers; everyone is of equal emotional importance or unimportance. Behaviorally, this anxiety manifests as distress in the presence of strangers & a checking back in with the parent for reassurance. Over the next 2 to 3 months, stranger anxiety intensifies before fading into its successor: separation anxiety.

Separation anxiety usually begins at 9 to 10 months, peaks between 12 & 15 months & can last until somewhere between 24 & 36 months. Separation anxiety emerges from the infant's growing awareness of separateness from her parent. It is yet further testimony to the strength of the infant's attachment.

There's a range of behavioral reactions to separation anxiety. Some children cry in protest & cling to the parent; others withdraw from the world until the parent returns; still others protest by becoming angry & aggressive. While these behaviors may seem troublesome at the moment, they're proof that the work of attachment has proceeded well to this point.
The period of 10 to 18 months comprises the well-known "love affair with the world". The fundamental developmental task is exploring the world while refining blossoming motor skills.
Attachment shows up here as repeated "checking in" w/the parent amid the child's explorations. A child will go to the edge of her comfort zone & return to check in w/her parent before venturing out farther.
At this age children begin to invest significant emotional energy in father & other family members. Indicating the value of the initial attachment, the child naturally begins to multiply her attachments.
Despite this change, a child generally turns to mother when hurt tired or sick, an indication that this attachment still predominates. Other signs of healthy attachment at this age include:
experiencing joy in accomplishments
acceptance of comfort
beginning of self-comforting skills w/the aid of transitional objects such as the well-known blanket
A child's exploration of the world increases her awareness of being separate from mother. For the 15 to 24 month-old, this greater awareness gives rise to wooing & coercion as well as shadowing & darting.
Wooing is solicitous behavior designed to draw mother's attention. Wooing behaviors usually intensify with time & at some point, a mother usually comes to experience wooing as a coercive demand rather than an invitation.

Like wooing, shadowing & darting are attempts by the toddler to reconcile the seeming impossible dilemma of extending autonomy while preserving attachment. Shadowing refers to a child's following the parents practically everywhere while darting refers to rapidly moving towards & away from the parent. Both are signs of healthy attachment.
The final building blocks of bonding & attachment are put in place between 24 & 36 months w/the accomplishment of self & object constancy.
Self constancy is the child's experience that she's the same person across different emotional states & situations. Object constancy is the child's experience of others as predictable & available. Much of object constancy comes from a child's mental images of others. Self & object constancy serve to quiet separation anxiety as well as strengthen a child's ability to delay gratification & accept
discipline
.
When all goes well, the foundations for bonding & attachment are laid by 36 months. However not all children successfully negotiate these steps. The results can range from mild developmental delays to a diagnosable attachment disorder. The good news is that what work has been missed by a child can sometimes be "made up" later.
Lawrence Smith is a child, adolescent, adult and family therapist in private practice in Silver Spring.


Attachment Continuum
Attachment Disorders range in severity. In fact, the attachment continuum runs from securely attached thru degrees of attachment issues all the way to those who suffer from severe attachment disorder.

It's important to understand this as some children suffer from mild, moderate or severe attachment issues & some from mild, moderate or severe attachment disorders. Many adults also suffer from impaired attachments but they aren't necessarily attachment disordered.

A child who does not receive proper intervention of a severe attachment disorder often ends up w/a diagnosis on the lines of Borderline Personality Disorder, Anti Social Personality, etc. These are very serious illnesses.

So we need to understand that we all fall somewhere on the continuum – most of us fall between the secure attachment & weakened attachment states.
Adoptees aren't the only individuals that can suffer from attachment issues. Adults who didn't get their emotional & physical needs met in the first few years as well as families who have biological children who, for whatever reason, didn't have a strong connection w/their primary caregiver.
Some of the causes of attachment problems are very subtle & often go unrecognized.

Attachment Types Definition

Secure Attachment - Child rests comfortably in mother's arms & makes good eye contact w/child. Eye contact between mother & child is reciprocal & both of them feel at one.

When mother leaves the child & separation occurs, the child feels distress. When mother returns, the child is delighted to see the mother & the mother is delighted to see the child. The child will quickly settle into mother's arms & refuel.
The child will be ready for a nap or will be ready to venture into the world until he tires & is ready to refuel again. This process will be repeated thousands of times until object constancy is attained.
A
nxious Avoidant
- Characterized by
anxiety
&
fright
within the child because he doesn't feel safe when he attempts a secure attachment w/mom. Mom may well be anxiously avoidantly attached herself & doesn't trust physical closeness.
The child is aware of her discomfort & tends to keep the mother at a distance, thereby preventing the child from being injured should he attempt to attach & be rejected. He, however, doesn't allow the mother to get too far away lest his abandonment anxiety become too great & he should panic.

This attachment style keeps the child in
tension all of the time
but prevents him from having an
acute anxiety attack
should too much separation occur or narcissistic injury should he be rejected.
A
nxious Resistant
- These children are insufferable & cry constantly because their mothers drive them crazy. Their mothers miss many cues as to the needs of their child & consequently, the children are constantly frustrated.
Frequently these mothers are alternatively abandoning or intrusive. They may need to control their children for their own narcissistic gratification by intruding on them when the child doesn't want to be intruded upon.
Or they alternatively ignore the child when he has a legitimate need to be met. These children are very angry, anxious &
depressed
. They frequently become personality disordered, borderline or narcissistically disordered delinquents.

Disorganized - This is the worst of all possible worlds, for these children usually combine an anxious resistant attachment w/
post-traumatic stress disorder
resulting from
child abuse
.
These children present as chaotic & their attachment style w/ their parents is frequently chaotic. Treatment of them is difficult because you're not only treating the traumatized attachment but also the
trauma of abuse
.
They're frequently in a state of chronic hyperarousal & the effects on the limbic system in terms of hippocampal atrophy are dramatic. They don't have the ability to soothe themselves & don't trust soothing by others.

John A. Dicke PSY.D. J.D.
Licensed Clinical and Forensic Psychologist


What is Attachment Disorder?
Attachment

John Bowlby defined attachment as the "affectional tie between two people". It begins w/the bond between the infant & mother. This bond becomes internally representative of how the child will form relationships w/the world. Bowlby stated "the initial relationship between self & others serves as blueprints for all future relationships." (Bowlby, 1975)

Recent findings from the field of neuroscience are revealing deeper dynamics to the attachment phenomenon. What has been proposed as attachment theory may in fact be more closely defined as a regulatory theory.

In attachment transactions the secure mother is continuously regulating (calming) the baby's shifting arousal levels & therefore emotional states (Schore, 2001).
It's the prolonged state of calm functioning & effective parental soothing in the face of stressful events, which leads to the child's ability to develop self-regulating capabilities.
Such capabilities are necessary for forming healthy & significant future relationships. In other words, the ability to self-regulate & be regulated is a prerequisite to the ability to form healthy attachments. (Post,2001).

Attachment can thus be defined as the dyadic regulation of emotion (Sroufe, 1996). This new view of attachment functioning creates an entirely different approach to understanding the child w/ attachment disorder.

The stress response
Children diagnosed w/Reactive Attachment Disorder are responding to events in their early life that may include
neglect
,
abuse
, or an event more subtle (see causes below).
In addition, the early exposure to such stressors in early life makes them highly sensitive to other stressors during later life, specifically childhood. Due to these events, many children are unable to calm their internal functioning system which is responsible for healthy attachment to a primary caregiver & normal brain development. My explanation is somewhat simplified but may be helpful to you. It doesn't replace a diagnosis from a qualified therapist.
From conception to age three, the brain is in a state of maximum growth & development. It's during this period of development when calm & healthy interactions w/a parental figure are vital.

The regulatory system involving the brain / body stress management system is learning from the parent how to effectively manage external stressors. According to LeDoux 1996, vital brain components responsible for healthy stress management & regulation are the hippocampus & amygdala.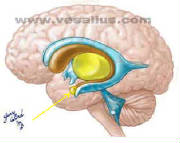 A healthy developmental stress response cycle looks like this:

An expressed need is in actuality a neurophysiologic (brain / body) state of stress w/an emotional expression. All behavior is driven by a state of brain/body stress which presents itself as an emotion (Post, 2001).
What science has told us is that the amygdala (yellow area above graphic) is the area responsible for our fight, flight, or freeze response. In essence, the amygdala is our fear receptor & the hippocampus our fear regulator.
As the baby has a need, quite possibly a feeling of fear, signals the need by crying, the mother (primary caregiver) comes & calms her baby. This calming interaction leads to regulation of the stress, thereby making the baby feel safe once again.

If this cycle is repeated over & over again & the baby's stress responses & needs are consistently met in the proper way by the same caregiver, the baby often develops the vital tools necessary for calming their own internal states of stress when experiencing fearful elements.
From the ability to calm ones stress, one is able to trust that the external world, for the most part, is a non-threatening place. He'll then be able to continue on in his development. Now, take a look at the disruptive stress response cycle:

As you compare the Healthy Stress Response Cycle to the Disrupted Cycle, you can see how the baby signals once again from the activating event perhaps by a cry, but this time, the signal is not met by his mother (primary caregiver).
Sometimes, the signal or need is met but it's inconsistent, or there are different caregivers who don't fully understand this particular baby. When the cry goes unanswered, essentially when the stress is left w/out regulation, as in the case of neglect, a persistent state of stress prevails.

In this instance, the developing regulatory component of the brain becomes unable to manage the overwhelming stress discharge & can be subject to damage & developmental delay. (See Potential Causes below)

If during development, this stress response apparatus is required to be persistently active, a commensurate stress response apparatus in the central nervous system will develop in response to constant threat.
These stress-response neural systems will be overactive & hypersensitive (Perry, 1995). In other words, the constant state of stress left unrepaired or regulated will create within the child a system of high sensitivity to external threats or extreme fear sensitivity.
Instead of developing a stress response system capable of self-calming which ultimately leads to a psychological feeling of calm & safety as the baby who experiences the Healthy Stress Response Cycle, this baby develops a stress response system unable to determine safety in the external world therefore causing a constant state of fear & often times aggressive defensiveness.

Psychologically this child perceives the world as a frightening place w/little place for calm & comfort. It's highly adaptive for a child growing up in a violent, chaotic environment to be hypersensitive to external stimuli, to be hypervigilant & to be in a persistent stress-response state (Perry, 1995).
For most children this constant state of fear will surface & give the appearance of a need for control & not trusting. However, it's imperative to this child's future well-being & development that he not be viewed as a child full of rage & mistrust but rather as a child consumed with a state of uncontrollable terror (Post, 2001).

To expect the child to function as a typical child when his normal development was completely stunted back in infant / toddlerhood isn't rational. In fact it becomes a developmental impossibility plaguing therapist & parents who try w/a lifetime of uncertainty & emotional distancing.
We must view such children in a manner that isn't common & provide them w/an environment conducive to a corrective regulatory experience (Post, 2001).

What is Attachment Disorder/Reactive Attachment Disorder (RAD)?
The
exposure to stress
w/some children has been so significant that they stand outside of any category of severity. These children give
trauma
a new definition. Most are or have been in foster care, have had repeated life or death experiences, have had several changes in caregivers, all have suffered from some form of
emotional, sexual, or physical abuse
& generally they've never been successfully treated.

Children with reactive attachment disorder see the world differently than we do. For these children, life is
a constant threat
. Such threats can be interpreted through all manner of sensory stimulation. In other words, a sight, sound, smell, taste, or elevation in body temperature can trigger such children into an
overwhelming fear state
.
A special thanks to Dr. Bryan Post at www.bryanpost.com and Nancy Geoghegan at www.attachmentdisorder.net.


Attachment Problems: Symptoms and Causes
Symptoms

•Intense control battles, very bossy and argumentative; defiance and anger
•Resists affection on parental terms
•Lack of eye contact, especially with parents - will look into your eyes when lying
•Manipulative - superficially charming and engaging
•Indiscriminately affectionate with strangers
•Poor peer relationships
•Steals
•Lies about the obvious
•Lack of conscience - shows no remorse
•Destructive to property, self and/or others
•Lack of impulse control
•Hypervigilant/Hyperactive
•Learning lags/delays
•Speech and language problems
•Incessant chatter and/or questions
•Inappropriately demanding and/or clingy
•Food issues - hordes, gorges, refuses to eat, eats strange things, hides food
•Fascinated with fire, blood, gore, weapons, evil
•Very concerned about tiny hurts but brushes off big hurts
•Parents appear hostile and angry
•The child was neglected and/or physically abused in the first three years of life

Separation from the primary caregiver

Changes in the primary caregiver

Frequent moves &/or placements

Maternal depression - read more at anxieties 101 -
click here!
Undiagnosed, painful illness such as colic, ear infections, etc.

Lack of attunement between mother & child

Young or inexperienced mother w/poor parenting skills

DSMIV Diagnostic criteria for 313.89
Reactive Attachment Disorder of Infancy or Early Childhood
Behavenet Clinical Capsule


Symptoms in Infants & Toddlers
1. Cries; miserable all the time, chronically fussy

2. Resists comforting or nurturance
3. Resists or dislikes being held

4. Poor eye contact or avoids eye contact

5. Flat, lifeless affect (too quiet)

6. Likes playpen or crib more than being held

7. Rarely cries (overly good baby)

8. Angry or rageful when cries

9. Exceedingly demanding

10. Looks sad or empty-eyed

11. Delayed milestones (creeping, crawling, etc.)

12. Stiffens or becomes rigid when held

13. Likes to be in control

14. Doesn't hold on when held (no reciprocal holding)

15. When held chest to chest, faces away

16. Doesn't like head touched (combed, washed)

17. Generally unresponsive to parent

18. Cries or rages when held beyond his wishes

19. Overly independent play or makes no demands

20. Reaches for others to hold him rather than parent

21. Little or reduced verbal responsiveness

22. Doesn't return smiles

23. Shows very little imitative behavior

24. Prefers Dad to Mom

25. Gets in & out of parents lap frequently

26. Physically restless when sleeping

27. Doesn't react to pain (high pain tolerance)

The following is an excerpt from Dr. Buenning's Attachment & Bonding article:

In the last 8 years, I've worked with the parents of babies & toddlers who had problems bonding. Thru this work, I developed a 27 item Infant Attachment Checklist.
A diagnosis of RAD can be made in an infant with only several items checked in a positive direction.

There are 2 major groups of unattached babies. The 1st group consists of babies who are fussy & unhappy. They're visibly disconnected & cry extensively. They're often inconsolable & reject nurturance & comforting from their parents. The parents are unable to appease or alter the infant's unhappy condition.

The 2nd group consists of babies who are overly good. They're calm, quiet & appear independent. Usually, they have a flat affect & calm appearance. They make few demands upon their parents. i.e., if the parents place them on the floor, they can happily entertain themselves for an hour or more.
They rarely cry or are fussy. In one instance, I gave a 3 hour talk to a group of adoptive parents. One of the mothers present was holding a 6 or 7 month-old infant. The infant sat on the mother's lap with her back to the mother. She didn't make eye contact, smile, or make a sound.
The baby didn't fuss or make a single demand of the mother during the entire 3 hour lecture. The mother saw her baby as a "well-behaved" baby because she sat so quietly & cooperatively for 3 hours.

It's understandable that parents & professionals can mistake this apparent "good behavior" as healthy. Rather than being genuinely content, happy & emotionally connected, as her outward appearance might suggest, the baby was, in reality, sad, resigned & emotionally disconnected.
The Infant Attachment Checklist determines whether the infant is in the unhappy & fussy group or the excessively good group.

RAD is detectable early in infancy. Originally, my work with RAD was with older children, not infants. As I worked w/the parents of these older children, many reported thinking something was wrong with their child as an infant.
Usually, the adoptive mothers were the first to recognize "problems" in their infants, but they couldn't adequately describe what was wrong. Often they sought help from numerous professionals who were unsuccessful in recognizing the RAD symptoms in their babies.
There's another scenario that's prevalent with RAD. Babies can appear bonded in infancy only to develop symptoms of RAD as they become toddlers. Over the years, many parents stated their babies appeared bonded during infancy.
Either RAD wasn't present in infancy & developed later, or the parents didn't recognize the RAD symptoms in their baby. As their baby grew older, he either developed RAD or the condition then manifested itself in ways the parents could easily recognize.
Early detection & intervention leads to the most complete healing of children with RAD, with the least financial cost & emotional trauma to the child & his family. The following general statements will help you to answer the checklist items & develop an understanding of RAD in an infant.

Early in infancy, most babies with RAD reject at least some of their parents' love. This dynamic is apparent in many small ways. Ask yourself these questions:
"Does your child accept your affection or love?"
"Does he accept your touch when you hold or cuddle him?"
"Does he enjoy your physical closeness?"
"Does your baby let you nurture him when he's upset, hungry, frightened or uncomfortable?"
"When you care for him, does it help him feel better?"
"When you love him, does it make a difference to him?"
Often when the parents give love & affection to their baby with RAD, he doesn't receive or accept it. Many mothers say, "No matter what I do with my baby, it doesn't seem to help or affect him."

Try to determine if there's a growing emotional connection between you & your baby.
Is there a relationship of love, trust & reciprocity developing?
This is evidenced by eye contact & imitative or reciprocal behavior.
Does your baby look at you, notice you & respond to you?
After working with one mother & baby for a week, the mother stated, "I notice my baby staring at me. She watches me like she hasn't seen me before."
Remarkably, the baby had lived in this home for 7 months, but the mother reported, "It's as though she is seeing me for the first time."
Does your baby prefer being close to you rather than being alone?
The overly good baby is disarming because he appears to be easy, cooperative & content. He can appear bonded because he seems to accept whatever you give him & makes little or no demands. Overtly, he acts happy & problem free but internally he is unbonded.

With a medical illness, the patient is often the first person to recognize that a problem may exist. Adequate medical information helps these individuals know whether to seek professional assistance.
The same is true with RAD. As parents, you're in a position to see the early signs of problems in your baby. Even if the condition is mild, RAD is serious & shouldn't be ignored.
A mild attachment problem in infancy that is manageable or undetected can lead to significant emotional & behavioral problems in toddlers & older children.

If you have questions or concerns about your infant, consult with an attachment clinician in your area.

Dr. Buenning has had a private practice in Colorado Springs for the past 5 years. Prior to working w/adoptive families, he worked for 20 years in mental health centers in several Western states.

Please take the time to click on these boxes to answer just 2 questions! I'm just curious!
Thank you very much!
kathleen


This article is printed from http://www.SelfGrowth.com

Therapy/Counseling
Nothing Is More Important to our Health than Self-Knowledge
By by Kathy Oddenino, R.N.
Apr 26, 2007


Our internal hidden memories live in the neurons of our brain. The more that we expand our thinking mind the more we connect with our hidden memories. When we have a belief in living only one physical life, we can't comprehend the concept of how our hidden memories can & do dictate our physical behaviors thru the control of our thinking mind.
Our thinking mind can become conscious of the stored hidden memories in our brain, accept them as our present reality &d allow our thinking mind to be controlled by these internal hidden memories.
I'm teaching about Hidden Memories in all of my classes this year & my next book will be written on this very important subject that isn't understood by any level of science because our thinking mind continues to be externalized & un-accepting of our hidden memories as a real influence of our thinking & physical behaviors.

The massacre at Virginia Tech is a perfect example of a young man who is living from his hidden memories & therefore unable to interact gracefully with his present moment in life. It's very sad that he killed so many people & himself in his internal torment.
This massacre could have been avoided in the same way that all of our other school shootings could have been avoided if the adults of our world could only comprehend that our brain is full of past life memories & when we aren't grounded in the present reality that we are living it's because of these past life memories that are distracting our thinking mind.
Past life memories aren't mental illness & they always happen as we evolve as a Spirit Consciousness into each new physical lifetime. Until we can understand & work with this internal reality as human beings, we'll simply experience more & more violence among the children in our society.
Giving drugs to children with past life memory simply confuses the thinking mind even more & allows more anger, hate & violence to occur.

When children return into new physical lives with past life memory from a hidden memory node & we as adults don't understand what is happening within the child's mind then we're unable to help the child understand what's happening, which leads the child into acting out the past life memories that have become the focus of their reality.
Being conscious of past life memories doesn't mean that we're psychotic or mentally deranged, it means that we're evolving as a thinking mind into an understanding of who we are as human beings.
When we live our physical lives with a "one life" belief, we aren't prepared to cope with past life memory, because we can't compute that we have past life memories if we believe that we live only one physical life.
This is why our present day reality becomes "schizophrenic" to our thinking mind when we try to balance what we're experiencing internally with our external learned beliefs.

I have been talking about hidden memories for years as I teach & write Spiritual Philosophy. Every time that our society experiences another school shooting or some other obvious hidden memory experience, I always wish that I could have had some counseling with these individuals.
The massacre at Virginia Tech has really touched my heart because 2 of my 6 children are graduates of Virginia Tech & I have many friends among their friends who have graduated from Virginia Tech.
The Samahas lived close to our family in Arlington, VA and their children were friends of my children. Virginia Tech is a wonderful school that my children loved & they loved the growing experience that nurtured them at Virginia Tech. So we must ask ourselves, "what happened?"

The true answer to most killings & crime are our "hidden memories." Our one life belief doesn't give our thinking mind permission to acknowledge that we're living eternal life thru multiple physical experiences as we grow into our Spirit Consciousness.
Our religious attachment to our belief in only one life, doesn't give us the tools to understand our past-life memories & behaviors that exceed the "normal behavior" that's dictated within our thinking mind.
If we understood that we are energy & matter as a human design & we know that energy never dies but it does change form, we could change our one-life belief to a concept of eternal life thru the energy of us living in endless physical bodies, with the energy of our entire brain storing the energy of our past physical lives in the neurons of our brain.
Our thinking mind is 1 of 3 parts of our Spirit Consciousness energy that eternally stores our hidden memories.

It's obvious that our system of understanding the thinking mind failed Virginia Tech & Cho Seung-Hui because it appears that no one reached this young man's thinking mind.
The sadness that I feel for this young man's family is just as deep as the sadness that I feel for Cho himself & the other "victims" of his loneliness & confusion.
I'm a person that has lived with past-life memories consciously from the time that I was 2 years old. My father understood this phenomena because he too lived with past-life memories & the consciousness of energy.
He never talked about this to many people but because he knew that I had the same ability, he did talk to me with explanations of how to live with the "gift" of intuitive consciousness. I experienced his intuition at the age of 6, when I was 5 minutes late for school & received the only spanking that he ever gave me.

When we can't understand ourselves as eternal beings, we can't understand how we can return to life with hidden memories controlling our thinking mind.
Cho was controlled by his hidden memories especially when he began his "killing spree." It's very sad that we live in a society that simply doesn't know how to deal with an advanced thinking Soul Mind that can use its hidden memories.
Once an individual recognizes & accepts that we've lived more than one physical life, we can also accept that our brain is storing the memories of every life that we've ever lived. Our hidden memories are stored in the neurons of our brain. What's called "mental illness" is really us living from our hidden memories & having no one to help us thru this maze of energy that's being picked up by our thinking mind.
I work with people who have hidden memories & I teach classes on our hidden memories, how we store them, how we access them, what they mean to us & how we can live long & happy lives as an evolving thinking mind that's open to our hidden memories as an advancement of our creativity.

It's very important to us & our society that we begin to break thru the shell of our ancient beliefs so that we'll be available to understand & use our hidden memories. We can help others learn to understand this absolutely normal stage of our human growth potential when we release our fear of change & growth as a Spirit Consciousness.
A few words of explanation to this very intelligent young man could have prevented all of this horrible massacre that has occurred & that is so terribly devastating to so many families. There's an old saying that "An ounce of prevention is worth a pound of cure." & when we accept this concept, we can begin living in a healing state by knowing that we're eternal beings living our hidden memories as part of our physical lives & our creativity.
Loving our hidden memories as part of us will allow us to share them openly in our communication & to learn from them without the anger to kill. Since war has always been a part of our thinking mind & human behavior, each & every one of us has the hidden memory of being a killer, which we'll not activate when we have an understanding of ourselves & our hidden memories.
Our entire world must change its fear & its ancient belief system before we can help ourselves & other people navigate thru the rough waters of our hidden memories.
Knowledge is the answer to growth & change within our thinking mind.


The 5 Hindrances of the Mind: Are They Blocking Your
Self-Esteem
?
By Deborah L. Shipley, RYT
The issue of
self-esteem
is perhaps one of the greatest determinates in creating a life of
freedom
& abundance, or
feeling
inhibited & "just getting by."
Self-esteem
is defined as "a
feeling
of pride in oneself." It's how you feel in relation to yourself rather than how others see you. It's between you & well… you. Therefore, it's not necessary to be so concerned about what others
think
to determine your level of
self-esteem
, as the definition doesn't include any "others", just you.
So where can you help yourself to better understand you? There are so many aspects of you but one that's of great importance is that of your mind.

In the ancient wisdom of Patanjali's Yoga Sutras, there are 5 hindrances or afflictions of the mind that are collectively known as the klesas.
An understanding of each of these hindrances can help play a part in the discovery of self, leading to a
feeling
of well-being,
connectivity
& greater
self-esteem
.
The hindrances are as follows:
Encountering the afflictions without being aware of them creates stumbling blocks on the path to self-realization. The afflictions will arise at different times in life, but if one has spent time studying them, one may be able to recognize them for what they are & move thru them with a certain level of personal understanding.

The 1st hindrance is ignorance of the true self which is the building block for all of the other afflictions. It can be described as an incorrect understanding of oneself that is the culmination of years of unconscious actions, thoughts & words that one has become dependent upon as part of one's being. Sound familiar?
How many times have we replayed old tapes over & over in our head until they become so embedded in our persona that we begin to self-realize these false beliefs?
From ignorance, derives judgments of oneself & of others. By understanding the various afflictions & where they originate, one may transcend a lifetime absorbed in ignorance.

The 2nd hindrance is egoism which is the identification of the self with what one is not- the body, mind, personality, emotions, senses, accomplishments, failures & possessions, or lack thereof.
You may be thinking, "People with low self-esteem are certainly not showing an ego problem." Well, it actually is an ego problem, as the concern over what others think dominates many choices & actions in daily life.
In egoism, the practice of remaining in the moment & being a non-judgmental witness comes in handy. In truly observing what's happening in life as it is, rather than placing violent judgments on self, others & situations, one may experience life with a limited ignorance.
Imagine viewing the world thru a camera lens & just seeing what is-nothing else.
The 3rd hindrance is attachment which arises from the ego's idea that more is better & of the fear of losing what one already has in his/her possession.
Are you keeping up with the Jones'? Do you really need to be? More stuff just means more upkeep; right?
As one progresses on the life path, experiences occur that cause feelings of great pleasure. One may cling to these things in hopes of experiencing the feelings over & over again.
Attachment is looking outside of oneself for validation & bliss. The reality is that external factors come & go; it's the internal true self that remains a constant.
"Happiness is found within", is a timeless phrase & it is unconditional & independent of any outside circumstances or people. Freeing, isn't it?

The 4th hindrance is aversion which is also a form of attachment, but in the negative sense.
The experiences or circumstances that one doesn't want to have, or is repulsed by, comprise aversions. Aversions are typically based on fear of the unknown, unfamiliar, or years of subconscious mechanical thought. Fear plays a big role in issues of low self-esteem.
Attachments & aversions are both relative in that what is a good/bad experience or feeling for one may not be so good/bad for another.
Any attachment or aversion springs from the imagination & can be construed as clinging & therefore, in turn, suffering. By practicing detachment to either aversions or attachments, one can see a situation for what it is rather than what it's perceived to be.

Clinging to life or the fear of death is the final hindrance. It's self-preservation & the fundamental will to live in one's body on this Earth. This affliction is said to be experienced even by the very wise.
It's ultimately the understanding of this affliction that will set us free. Each individual would come to terms with this hindrance by their own accord in relation to their own belief system regarding death & what happens when we leave our physical body. It's my sense that we're eternal in spirit.

The klesas are complex & interwoven. By increasing the understanding of each affliction, one may begin to identify them when they surface in life.
In knowing where the reaction, situation, or behavior is derived, the individual may be better able to experience the true sense of the moment in awareness & without judgment. By remaining open, one is able to receive the perfection in every moment.

It's a daily process to connect with oneself in understanding, but one that can create a life that is, for the most part, joyous, peaceful & full of love. With practice the sense of self-esteem will continuously improve & the feelings of a life connectedness will deepen.
Try it for yourself as this all begins & ends with you. For, it's what you think that really matters.


"The mind is everything; what you think, you become."
(Buddha)


Deborah L. Shipley, RYT
Deborah is a Registered Yoga Teacher and a writer of the free monthly e-zine
Self Esteem: Shining from Within. If you would like to contact her please visit
her website: www.quizforselfesteem.com, her blog hosted e-zine site: www.quizforselfesteem.blogspot.com, or e-mail her at dlshipley@comcast.net.